Sandelin Designs
Calligraphy from the analytical and artistic mind of Nina Sandelin Umont.
It's no secret that we are big fan's of the pop-up shops and workshops at Anthropologie Walnut Creek. But, when we saw one of our instagram crushes was going to be at a Valentines pop-up there, we knew it was one we couldn't miss.
After watching our heart felt Valentine written out with no mistakes and perfection beyond measure, we knew we wanted to feature the calligrapher and artist Nina Sandelin Umont. We scheduled an interview with Nina to follow a workshop she was teaching.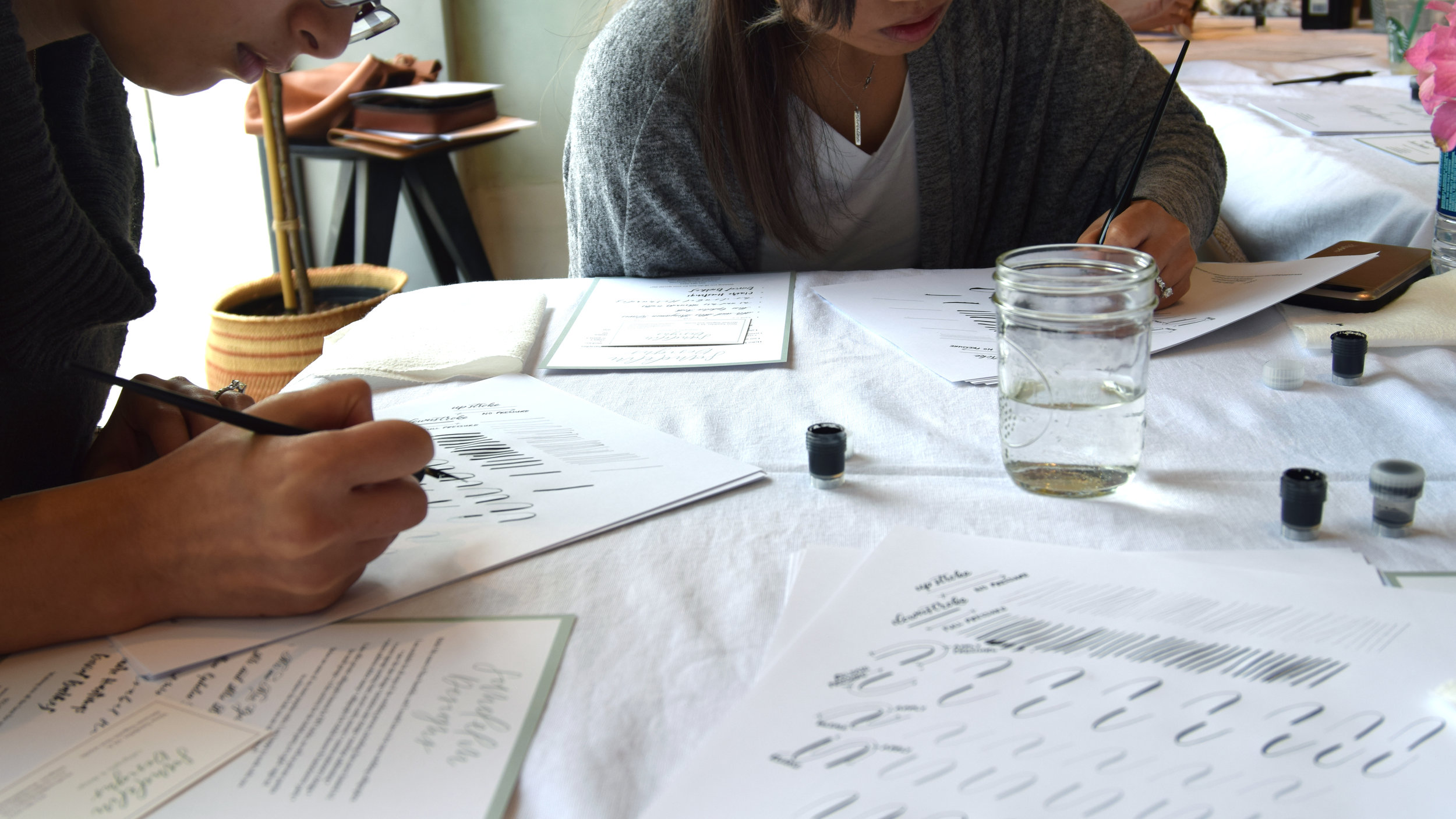 Walnut Creek - Modern Calligraphy
A little bit nervous, as a complete novice to calligraphy, we went to the workshop in downtown Walnut Creek in Anthropologie's new building. The venue was dreamy and bright, the supplies were provided - and Nina was a great instructor. Did we mention it was free? (Make sure to follow @Anthro_walnutcreek to find out when sign-ups are for the next class.)
With guide sheets and our pens in hand we were able to trek our way through drills and the alphabet before exploring ligature.
Nina answered all of the questions about beginning modern calligraphy, before we knew what the question was. Did you know that all of the tips (or nibs) have an oil coating on them to keep them protected during shipment? While you can use windex... you can also just stab the pen into a potato... Yep, a potato removes any oils from the nib. Also, don't buy the calligraphy supplies on Amazon!
Sandelin Designs - Home of the Modern Calligrapher
When we sat down with Nina in her home office and she was just as relaxed and welcoming as she was during the workshop. Her beautiful Oakland craftsman home is over 100 years old, with natural light and original wood wainscoting. The house is the creative central for her and her husband, who both work from home in creative careers.
Nina received her Masters in Linguistics from the esteemed McGill University in Montreal, Quebec. It was during those years abroad that she met her now husband, David - a web creator and digital illustrator. Their relationship fostered confidence in herself to pursue art as a career.
As so many other artists are, fear held Nina back from showcasing or charging for her work for a long time. But, as we all can see - she has immense talent and passion for the art of the written word.
Raised locally by a physicists and an advertising agent, Nina is both parts creative and analytical. Her father, a retired physicist from the Lawrence Livermore Laboratory, challenged her to pursue an education that would afford her many opportunities in the future. Just prior to her graduation from McGill she landed a dream job, working with data sets for a Montreal based company.
Yet the call to creation couldn't be restrained. She found herself spending an increasing amount of time pursuing artistic endeavors. Eventually, she and her husband moved back home to the San Francisco East Bay to explore the opportunities that this area affords many full time artists.
Calligraphy is a natural fit for Nina... Copperplate or Modern Calligraphy, she enjoys taking on the challenge of the craft. She doesn't stop at just writing amazing script though. After admiring the craftsmanship of her pens from Toms Studio, Master Penman Michael Sull, Christopher Yoke - she began making her own! Nina has a true love for the process and it shows through her beautiful work.
While she is accepting clients for weddings, bridal and baby showers and other special events, she also teaches private classes. Depending on the size of the class parties range from $55 - $125 per person for two hours.
You can inquire with her about openings for signage, envelopes or special gifts here.
If you would like to register for a private party class, fill out the form below!